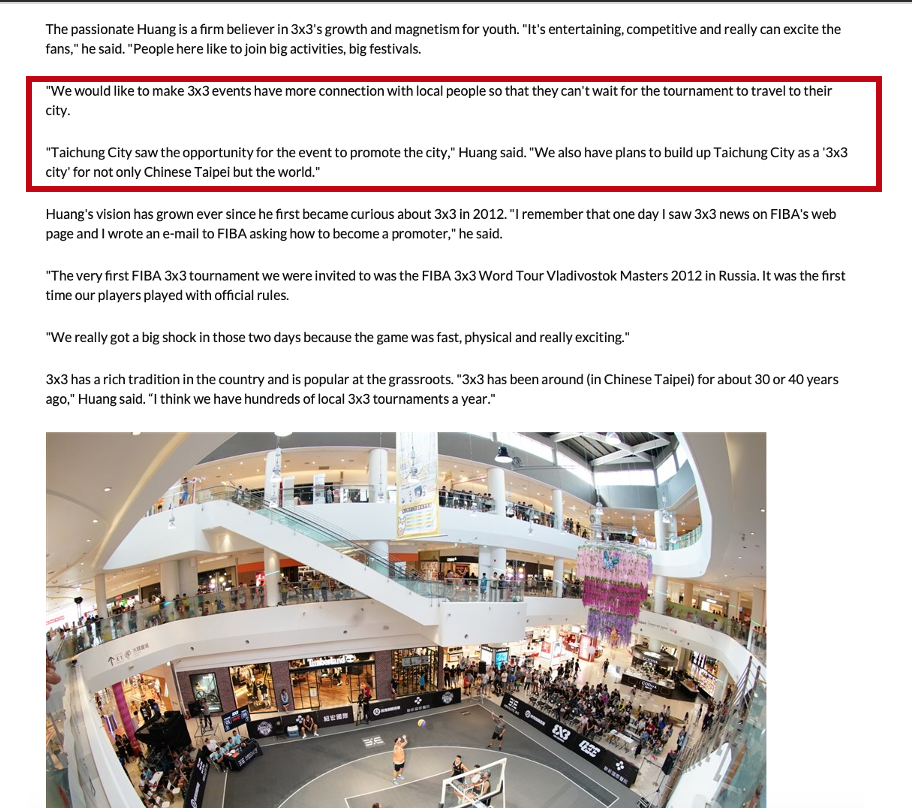 The Sports Bureau of the Taichung City Government successfully won the bid to organize the " 3X3.EXE PREMIER 2020 Tournament" games on July 18th and 19th in Taichung. On August 29th and 30th, the final round in Taiwan will be held in Taichung, too. According to the Sports Bureau, after the recognition of Taichung by the international baseball, soft baseball and soccer organizations, the International Basketball Federation(FIBA)a couple days ago also recognized efforts of the Taichung City Government for its promotion of basketball to let players play their best and attract many fans to Taichung.
The official website of FIBA reported the vision of brand manager of "Absolute3X3," Huang Chia-De for the sports promotion. Huang Chia-De pointed out that the Taichung City Government gained the opportunity to organize the 3X3.EXE basketball games in Taichung and successfully seized the opportunity for its development. He hopes that through this international tournament, he can work hand in hand with the Taichung City Government to build Taichung into a world famous "3x3 City."
Director General of the Sports Bureau, Rex Li, said that under the leadership of Mayor Lu Shiow-Yen, achievements in sports development have been seen. Via 3 x 3 basketball games, basketball sports in Taichung will lay a good foundation. At the same time, fans from various countries are invited to Taichung for more city marketing and promoting Taichung as "a sports loving and a cool city."
The Sports Bureau said this tournament is the first time for the cooperation between the FIBA certified Taiwan Promotion Team, "Absolute3X3" and the world's largest 3X3 basketball league, " 3X3.EXE PREMIER" and games in Taiwan are held between and among six teams from Northern and Southern Taiwan in circular rounds in different cities around Taiwan. For a detailed schedule, please visit the official website of Absolute 3x3 (http://www.absolute3x3.com.tw/). For the cover story of the FIBA, please go to the website at (https://is.gd/DgUKKT).